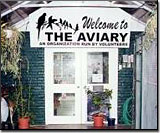 At the turn of the century, Thomas Gould left $3,000 of his estate to the Hamilton Zoological Society for a specific purpose "to make the Dundurn Park Zoo more attractive for little children". The money was invested while the Society pondered its use. In May, 1927, when the sum had grown to $5,000, the Society decided to remodel the animal house at the Zoo and turn it into an aviary. The Hamilton Parks Board agreed to do the work and the Society agreed to find the birds.
With the help of Dr. Crandell, curator of the Buffalo Zoo, the plans were approved in September 1927. The aviary was opened on June 1, 1928. William L. Hayes was the first supervisor. Mrs. W.D. Christenson of Port Nelson and the Hamilton Bird Society donated the first birds. The collection continued to grow and was looked after by Parks Department employees.
A New Beginning for the Hamilton Aviary
In 1992, faced with budget cuts, the City of Hamilton decided to eliminate the staff positions and close the Aviary. Local bird lovers met with City staff and proposed that volunteers keep the Aviary open. Newspaper ads attracted volunteers and in June 1992 the "Friends of Dundurn Aviary" was established.

On July 1, 1992 the "Friends" took over the running of the Aviary. In the summer of 1995, due to extensive historical restoration efforts at the castle, the flock was moved temporarily to an unoccupied police station for the duration of the work. In the spring of 1996, it became apparent that the birds would not be returning to their home of 70 years at the castle. This started a frantic search involving visits to many sites, with and without buildings, that might make a suitable home. At this time the Royal Botanical Gardens (RBG) was centralizing most activities to its Main Centre and their site known as the Teaching Gardens was being vacated. Because of the many features suited to the Aviary at this location, the City and the RBG agreed to a multi-year lease and the Aviary was moved July of 1996. Volunteers worked hundreds of hours to prepare the site. Indoor and outdoor cages were built and today, the Aviary continues in a new home, in a beautiful park setting.
---